What We Do For Our Veterans and Community
If you wish to donate (New Personal Items) for mailing to the troops, please drop off the items at the Post during normal office hours. Also monetary contributes are accepted to help defray the cost of the mailing.
Post Hours are:
Monday – Thursday 10 AM – 11 PM
Friday 10 AM – 1 AM
Saturday 12 Noon till 1 AM
Sunday 1 PM – 10 PM
The American Legion Gold Star Post 191 supports both the BSA Scouting and the Cub Scouts. These two great American institutions have seen boys (and now girls) from all walks of life and all social backgrounds.
In 2001, Gold Star Post Chartered Boy Scout Troop 1191, prior to that in the previous decade, the Post had chartered a Cub Scout Pack, 1191. Since its inception, the Scouting program has flourished at the Gold Star Post, with well over 20 Eagle Scouts to date earning that rank with 1191.  The Post and the grounds are adorned with past Eagle Scout projects.
2019 began as a historic year in scouting at the Gold Star Post, as one of the first girl Troops in Maryland was formed and chartered (Troop 1191G), the original Troop changing its title to Troop 1191B.  That year a Venture Crew (intended for older scouts that wish to take a more adventurous path) was formed and chartered (Crew 1191).
The Post continues to send Scouts to Boys State and enlist their help at our ceremonies (Veteran's Day, Memorial Day, and Patriots Day) and at Dinner events.  The Scouts have assumed the duty of Honorably Retiring unserviceable Flags in 2016 and continue that tradition today.

Squadron 191, Son's of The American Legion are Gold Star Post 191's American Flag Replacement Program sponsors. Bring your tattered, torn or faded American Flag to during normal Business hours and receive a 4' x 6' American Flag. You must fill out the form provided with the new American Flag. Information needed includes: Address where flag is flying, Your Name, Address and Telephone number.
Please contact the Post 191 Manager for more information..
In January of each year the American Legion holds a Constitution Oratorical. The oratorical contest starts with the prepared oration.  The prepared oration must be on some aspect of the Constitution of the United States with emphasis on the duties and obligations of a citizen to our government. The prepared oration must be the original effort of each contestant and must not take up less than eight minutes or more than ten minutes for delivery. After all contestants have given their prepared oration, we move to the assigned topic portion of our contest. The assigned topic discourse must last between three and five minutes for delivery. The purpose of the assigned topic discourse is to test the speakers knowledge of one of four possible sections of the constitution, the extent of his or her research, and the ability to discuss the topic as related to the basic principles of government under the Constitution.
One of our resent post winners almost went all the way and ended up second in the National competition. A video of her presentation at the national finals can be seen HERE.
Information as to dates and application deadlines for our next local contest is forthcoming.
Each summer American Legion holds Boys State. American Legion Boys State is among the most respected and selective educational programs of government instruction for high school students. It is a participatory program where each participant becomes a part of the operation of his local, county and state government. At American Legion Boys State, participants are exposed to the rights and privileges, the duties and the responsibilities of a franchised citizen. The seven-day, on-campus training is objective and practical with city, county and state governments operated by the students elected to the various offices. In Maryland, Boys State is conducted annually and typically begins on Fathers Day and runs through the following Saturday. To be eligible for Boys State, a youth must be a male who has successfully completed their junior year in high school by the beginning of Boys State.
Maryland Boys State 2019 was held Sunday June 16th thru Saturday June 22nd at McDaniel College, Westminster, Maryland.
Unfortunately, Maryland Boys State 2020 has been cancelled.
For more information go HERE and check back for updates on this website and our newletter.
GOLD STAR POST 191 SCHOLARSHIP
SEVEN ACADEMIC SCHOLARSHIPS
Jack Weidman Memorial Scholarship $1,500
Elvin Helsel Memorial Scholarship $1,500
Charles Etzler Memorial Scholarship $1,500
Sam Jewell Memorial Scholarship $1,500
Art Brett Memorial Scholarship $1,500
Charles Norwood Memorial Scholarship $1,500
Arnie Ogren Memorial Scholarship $1,500
Seven $1,500 academic scholarships are annually offered by the Post. The first four are for students in high school who are going on to higher education. The next three scholarship are for high school graduates who are full-time undergraduate students at an accredited college, university or technical school.  The Post awards these memorial scholarship grants each year to reward outstanding performance and help local youth further their education beyond high school. The scholarships are given in honor of Legionnaires who demonstrated exceptional citizenship and service to the community.
Click HERE for Application
American Legion Gold Star Post 191 in Mount Airy, MD, presented four memorial scholarships on May 11, 2022.
The recipients were Bayden Stutzman, a senior from South Carroll High school who received the Elvin Helzel Memorial Scholarship; Kenneth Humbel, a senior from South Carroll High School who received the Jack Weidman Memorial Scholarship; Jacob Schroeder, a senior from South Carroll High School who received the Art Brett Scholarship; and Nick Barry, a senior from Urbanna High School, who received the Charles and Ann Etzler Memorial Scholarship.
Shown from left to right below are Braydon Stutzman, Jacob Schroeder, Kenneth Humbel, and Nick Barry.
American Legion membership is open to all veterans who served honorably or are still serving honorably.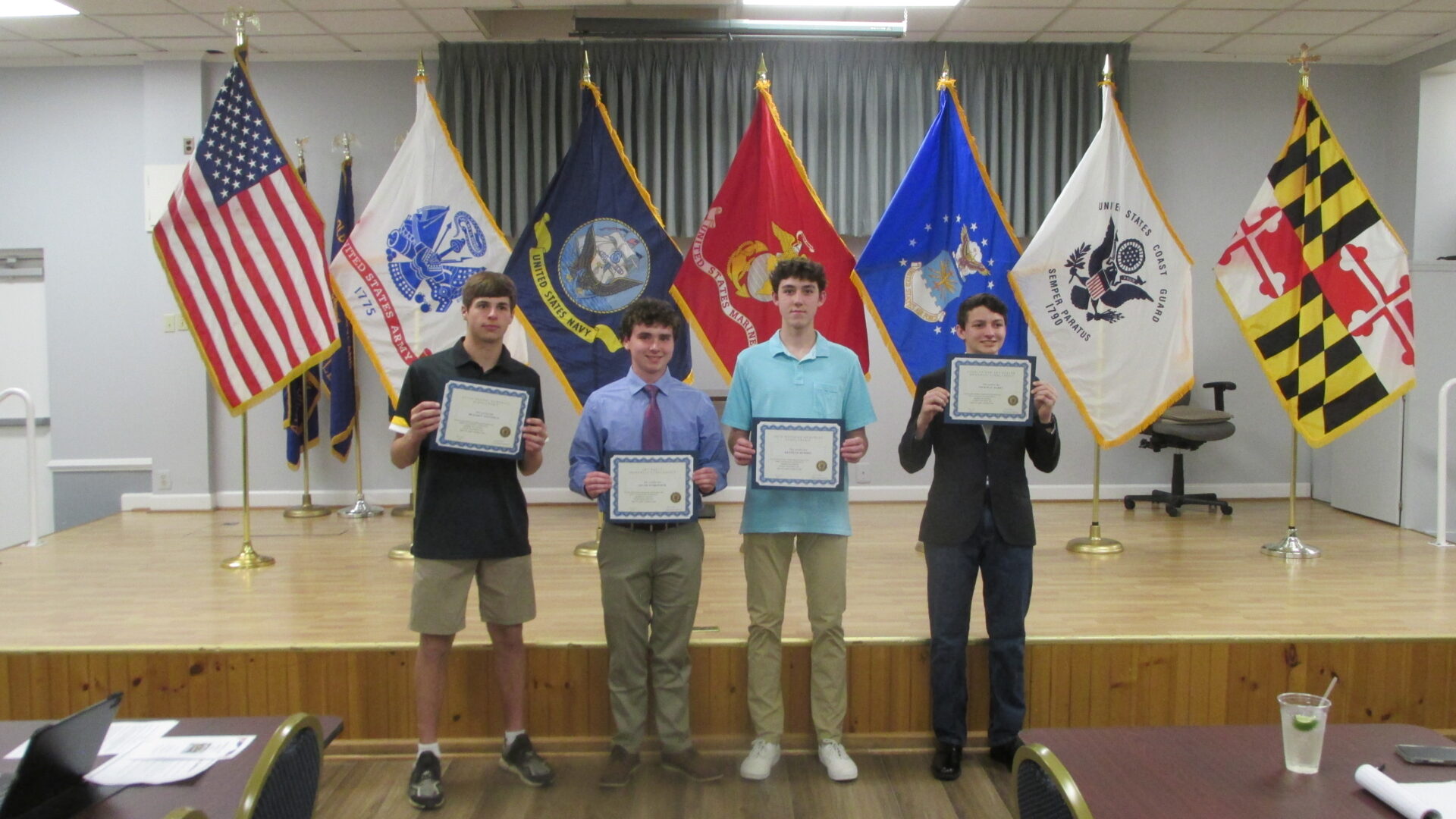 GOLD STAR POST 191 SAL SCHOLARSHIP
FIVE ACADEMIC SCHOLARSHIPS
Rob Watkins Memorial Scholarship $1,000
Ronnie Reese Jr. Memorial Scholarship $1,000
Post Everlasting Memorial Scholarship $1,000
Robert "Bobbie" Lowman High School Community Service Grant $1,000
Established in Memory of Team Henley - Scholarship $1,000
Five $1,000 academic scholarships are annually offered by the Sons of the American Legion Gold Star Squadron 191. These scholarships are typically funded by the Annual Scholarship Draw Down.
The 2021 SAL 191 Scholarship Application was due (postmarked) no later than April 1, 2022.
Click HERE for Application
The past Drawdown was successful in acquiring funds for all five scholarships for the 2022 year.  The winners were David Kneebone, Martin Ratchford Jr., Hanna Ratchford, Nathan Swartz, and Kenneth Humble.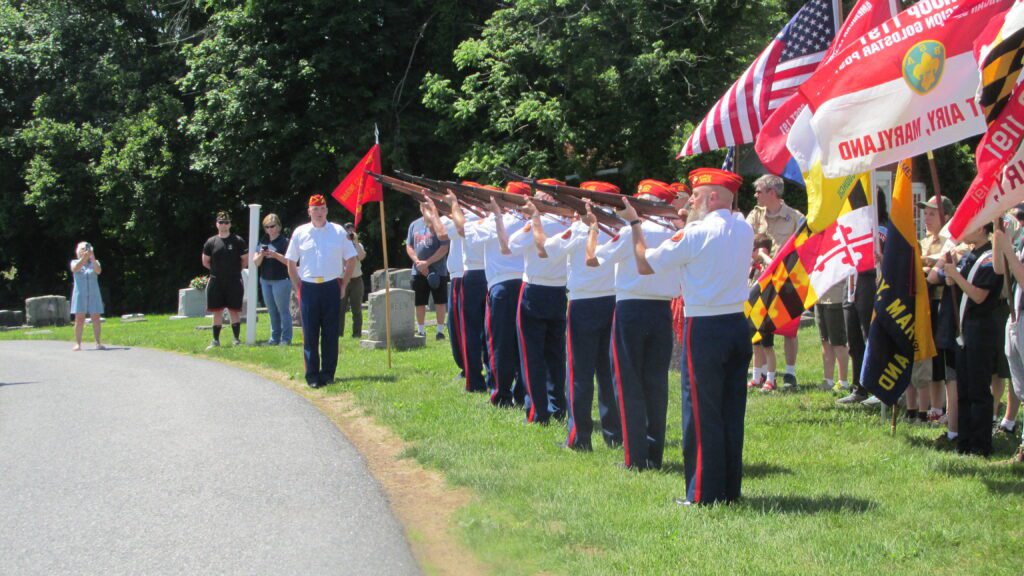 Every Memorial Day, the American Legion Gold Star Post 191 holds a ceremony at Pine Grove Cemetery in Mount Airy, Maryland.  All in the community are welcome to attend with the exception of 2020 due to the Covid pandemic.  This year a closed ceremony was held.  You can see a few photos of that ceremony in our photo gallery on this site.
LORIEN ASSISTED LIVING FACILITY MEETING WITH VETS
One project we enjoy and are so proud to be a part of, is the honoring of our Veterans at area Nursing Homes, presently Lorien. For the past several weeks, when families and volunteers have been unable to visit in person, our Chaplain has been working with the staff at Lorien to call in using FaceTime to visit with, encourage and pray with several veterans, each week. We intend to extend this practice to other area Homes, beginning with Pleasantville Nursing Home in Mt. Airy. Residents at our area homes are having a particularly difficult time during the COVID-19 crisis. They were unable to leave their rooms for several weeks, visiting families via Skipe and FaceTime only. Restrictions were eased a bit, in that face to face visits through closed windows using FaceTime was allowed and now, residents are able to meet a family member outside in the courtyard using masks and social distancing requirements. Their other activities have all been seriously curtailed and are allowed a 15 minute period in the courtyard, one at a time with a staff member. All of the necessary restrictions add up and have impacted residents in different ways from physical inactivity to serious depression. Please remember in your prayers all residents of our Nursing Facilities and the staffs, who work extremely hard to contain and lessen the spread of COVID-19.
Navy veteran Herman Michelitch 100th Birthday at Lorien.
Friday Sept 4th 2020 Happy Birthday from gold Star Post 191.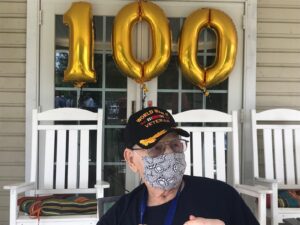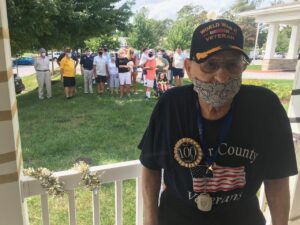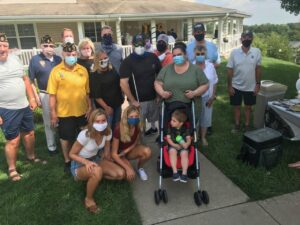 LORIEN ASSISTED LIVING FACILITY CHRISTMAS PACKAGES FOR VETS
Each Christmas, the Sons of the American Legion Gold Star Squadron 191 prepare and deliver Christmas "Care Packages" for the veterans at Lorien. These packages contain items ranging from cookies, to shirts to even blankets. This year may present some challenges for us due to safety concerns, but we are determined to assure our veteran's at Lorien will not be forgotten during the Christmas season.
ANNUAL CHILDREN'S CHRISTMAS PARTY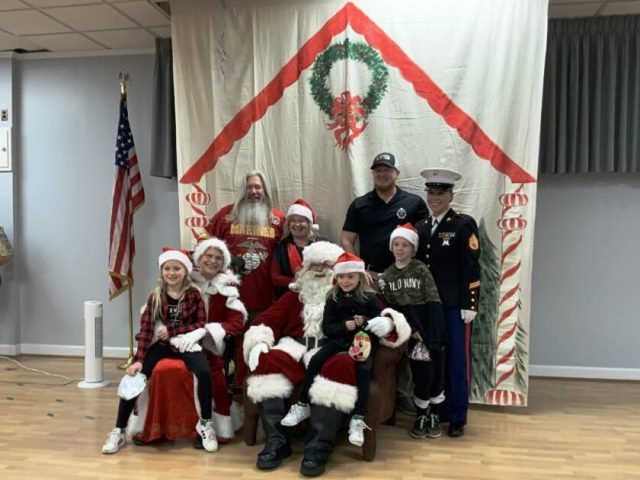 The Children's Christmas Party and Santa Meet and Greet at the post has always been a popular event each December.  After the 2020 cancellation, we are slowly moving to bring things back to normal for this community favorite.
ANNUAL SAL TOURNAMENT FOR SPECIAL OLYMPICS