Printer Cartridge Recycling
We are collecting used printer cartridges of any brand. Please drop them into the blue box in the hall of the Post.
Contact Anna Grimes if you have any questions at (301) 788-7174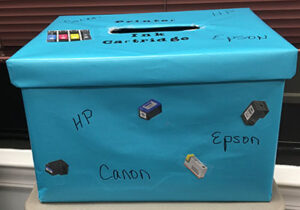 ALA Poppy Program
Connecting the visual image of the poppy with the sacrifice of service made by our veterans has been an important goal of the American Legion Auxiliary Poppy Program since its inception in 1921. On Memorial Day and Veterans Day, millions of red crepe paper poppies—all handmade by veterans as part of their therapeutic rehabilitation—are distributed across the country in exchange for donations that go directly to assist disabled and hospitalized veterans in our communities.